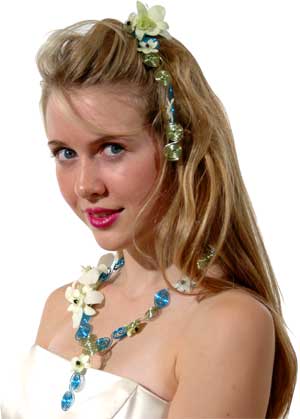 Floristry Training DVDs from


Latest News
June 2009
Latest DVD News
Well, summer is finally here just in time to help us celebrate the launch of our brand new DVD, Designer Weddings Workshop Vol 2 . It is even better than Designer Weddings Workshop Vol 1 , which we took to the NAFAS exhibition in Edinburgh last year. We were playing it in widescreen on a large LCD Television set, and many exhibition goers stopped to watch for a while and give us favourable comments. Most comments supported what previous customers had been telling us as reported below. Many colleges now have our DVDs in their libraries, and many college tutors are now actively using them to support learning in the classroom, so there were quite a few at the exhibition who had seen at least one presentation from our range of nine Oasis Baseline DVDs. Without exception, they told us that the presentations had been very helpful in enhancing their learning process, and recognised that the DVDs had been made to specifically support national examination standards. Most students recognised that the DVDs were a very powerful and effective way of revising for their exams. Florists with shops who have a requirement to train staff also recognised that the the DVDs were a particularly efficient and cost effective way to do this. Florists working from home on their own also recognised that the DVDs were a very good method of updating their skills and an easy way to absorb new ideas and keep up with the latest work of some of the leading designers. For instance, the latest DVDs showcase the work of Richard Haslem, NDSF, FSF, AIFD, an Oasis Ambassador and top designer. Please email us at info@thirdrockdesign.co.uk or call us on 0208 4080626 if there is something you would like to see on your next floristry DVD. In the mean time, we are busy working on volume 1 of our "Inspirational Techniques" DVD, which includes a section on leaf manipulation which many of you have been requesting.
If you are a resident of the USA or Canada, we have a web-site especially for you at www.thirdrockdesigns.com
Next Events
The next big event for us will be the 2009 NAFAS Exhibition in Coventry on July 16th to 18th. See you there!

>>Register for email updates