Free Project Two
Christmas Wall Hanging with OASIS® Florette (Reproduced with kind permission of Smithers-Oasis UK Ltd )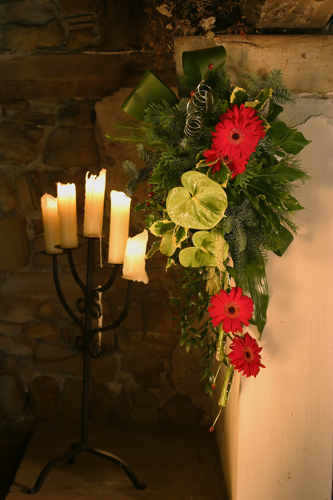 You're probably already offering a range of outside Christmas displays but what about taking it one step further. You see, not everyone wants or has space for table arrangements so why not take the classic door concept inside with this stylish wall hanger.
Flowers & Foliage:
Gerbera 'Ruby Red'
Anthurium 'Midori'
Hypericum 'King Flair'
Ruscus
Blue Pine
Aspidistra Leaves
Variegated Holly
OASIS Products
OASIS® Florette Medi
Aluminium Wire
Glass Test Tubes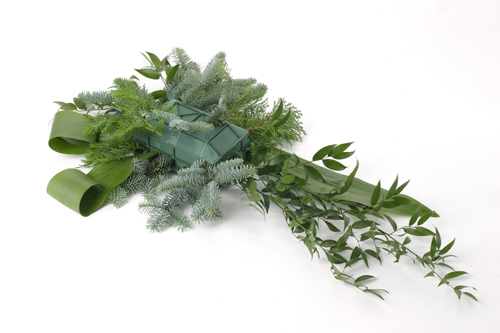 Use Aspidistra leaves, Blue Pine and Ruscus to create the overall shape of the design, curling some of the Aspidistra leaves into loops for added interest.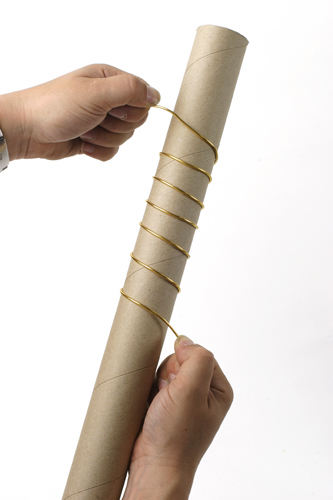 Make two spring-like coils of Gold aluminium by winding the wire round a 2" tube. Next twist wire around two test tubes - leaving a length of wire free to secure into the foam.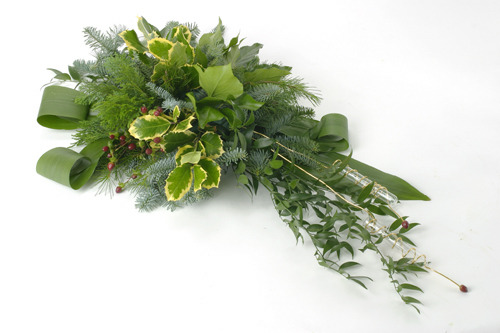 Insert the spring-like coils into the OASIS® Florette Medi and create a strong cluster of Gerbera and Anthurium. Finally insert the spirals in the top of the design, fill the tubes with water and insert a Gerbera in each.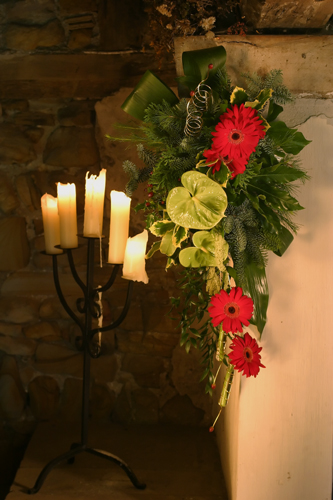 Designer Tips
For safety, glue a Hypericum berry to any exposed ends of wire ... it looks good and protects hands and furniture from damage. Use the plastic cage of the OASIS® Florette Medi as extra support for the water filled test tubes by pushing the support wire through the foam and hooking it over the cage. Always soak floral foam filled bases in flower food treated water to give your design work extra life span.